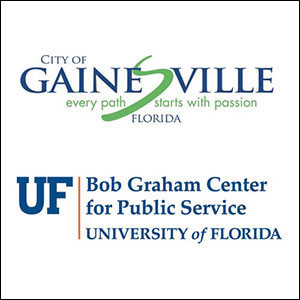 The City of Gainesville and the Bob Graham Center for Public Service at the University of Florida offer an annual City of Gainesville Local Government Fellowship program. This year, the Center is pleased to announce up to four fellowship opportunities with the City of Gainesville. Students will work part time (10 to 15 hours a week) during the fall and spring semesters of an entire academic year.
The fellowship is made up of four eight-week components, or two components each semester, in which students perform project based work striving to improve real-world, operational city issues and objectives. In collaboration with the Graham Center, the City Manager's Office will direct the fellows' projects. Each fellow will work collaboratively across City of Gainesville functional areas such as Strategic Planning, Citizen-Centered Gainesville, Communications & Marketing, Human Resources, Department of Doing and others.
APPLICATIONS ARE DUE BY FRIDAY, MARCH 30
We seek to recruit four fellows as a cohort that will mutually support each other in their project based objectives throughout the entirety of the fellowship. This team will work closely with each other as well as the city departments and organizational leadership. The focus areas for the fellowships are: Digital Services, Research & Prototyping, Engagement, and Visual Design.
Selection
Selection of the program participants will be decided jointly between the Graham Center and city staff.
In order to support the students' success, each fellow will be assigned a mentor from within city government. The student will meet with their mentors every other week to assess the progress they are making and address any concerns they may have.
Students interested in learning more about the program should contact Dr. Sheila Dickison at doctord@ufl.eduor Samantha Wolfe at wolfesb@cityofgainesville.org for additional program information.
FAQ
What positions are available? 
Fellowships in digital services, research and prototyping, engagement and visual design are available. To read more about each fellowship position, click here.
What majors should apply to the City of Gainesville Local Government Fellowship?
Students from any major are encouraged to apply, though the program is open only to students who have been at the University of Florida for four or more full semesters. For example, the city is eager to invite students from areas within the Colleges of Business; Design, Construction & Planning; Engineering; Health & Human Performance; Liberal Arts & Sciences; and Journalism & Communications.
Do I apply as a member of a team? 
No. While fellows will work closely with one another, group or team applications will not be considered. All applications need to be completed individually.
What classes will I take as part of my internship?
All students are required to take at least one internship credit, but are encouraged to take more. You can take internship credit through your own department or Interdisciplinary Studies Program.
Will the internship be paid?
A stipend may be available upon budget approval.