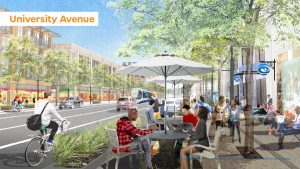 The University of Florida's Office of the Senior Vice President and Chief Operating Officer has announced it will award more than $300,000 in research awards to seven UF-City of Gainesville research projects.
As part of UF's Strategic Development Plan, UF Senior Vice President and COO Charlie Lane in February announced a call for proposals that utilize the UF campus and greater Gainesville community as a living laboratory to address real-world problems in the local community.
"A distinct goal of the Strategic Development Plan is to increase collaboration between the university and the city, and to connect UF's talent and resources to Gainesville in a way that can make improvements in a number of areas," Lane said.
Lane's office received 62 proposals from about 40 departments and centers throughout UF in just over a month. The proposals covered a broad range of topics, including health and wellness, smart cities, economic development and equity.
"The response to our call for proposals was impressive," Lane said. "Narrowing it down to the final recipients was extremely tough. Originally, we intended to select five winners but we were able to expand the list to seven, thanks to Shands CEO Ed Jimenez and Gainesville Regional Utilities general manager Ed Bielarski contributing to the award pool."
Lane also acknowledged the valuable input he received from Gainesville City Manager Anthony Lyons and his staff as well as other community leaders and faculty, in narrowing down the list of recipients.
Lane said after seeing such an enthusiastic response he would like to be able to fund additional research projects in the future.
"There are a lot of great ideas and talented researchers here at UF, and I'm very pleased that my office can play a role in connecting these individuals to important issues in the Gainesville community," Lane said.
The University of Florida's Strategic Development Plan seeks to shape the university and surrounding community's future over the next 40 to 50 years and establish the framework for the "New American City." Find out more about the plan at www.strategicdevelopment.ufl.edu.
The total amount currently being awarded is $312,760.
Below is the complete list of award winners and the research projects they proposed.
UF-City of Gainesville research award winners
PI = Primary investigator
Co-PI = Co-primary investigator
Dr. Michael Morris, Ph.D., PI: The Gainesville Entrepreneurship and Adversity Program
Co-PI Dr. Jamie Kraft, Ph.D.
Dr. Lily Elefteriadou, Ph.D., PI: Public Acceptance of Autonomous Vehicle (AV) Technology
Co-PI Dr. Nithin Agarwal, Ph.D.
Dr. Lisa Chacko, M.D., PI: Community Resource Paramedic:  An Innovative Approach to Meeting the Needs of Gainesville's Most Vulnerable Populations
Co-PIs Dr. Laura Guyer, Ph.D., and Mr. David Sutton
Dr. Jose Fortes, Ph.D., PI: Data-centric Modeling and Support of the Lifecycle of the Gainesville Businesses
Co-PIs Dr. Christopher McCarty, Ph.D.; Dr. Renato Figueiredo, Ph.D.; Dr. Erik Bredfeldt ,Ph.D.; and Ms. Lila Stewart
Dr. Kathryn Frank, Ph.D., PI: Neighborhoods as Community Assets—Preparing for the Future While Protecting Neighborhoods
Co-PIs Dr. Kristin Larsen, Ph.D.; Dr. Laura Dedenbach, Ph.D.; and Ms. Tyeshia Redden
Dr. Herman Knopf, Ph.D., PI: Building a Partnership Between Early Head Start and the Anita Zucker Center for Excellence in Early Childhood Studies to Benefit Young Children and Families in East Gainesville
Co-PI Dr. Maureen Conroy, Ph.D.
Dr. Ravi Srinivasan, Ph.D., PI: Urban Energy Model for Smart City Informatics